Yahtzee Game
We are bringing here yet other exciting dice game rules! Get ready to roll the dice and enjoy the game with your friends. Yahtzee Rules are shared here to play the game with skill. Basically a game of chance and luck; it also involves some strategy. Yahtzee is also known as Yatzy in Scandinavia and Yacht in some regions. The main object in the game remains to score maximum points by rolling 5 dice of certain combinations. Each combination will earn different scores. There is where you will need to know Yahtzee rules for sure. Our post carries all rules and instructions to play Yahtzee. If you are a passionate player of Dice games, we also recommend you to check rules of farkle at our blog.
Yahtzee game involves 13 rounds. Strategy lies in choosing the scoring category at every turn. Each scoring category differs in point values. The highest scoring category is all five dice of similar number or five of a kind which earns 50 points to the player. The player who scores the highest points wins the game. The game is commercially marketed and more than 50 million yahtzee games are sold every year worldwide. See further in detail how to play yahtzee and how to calculate scores.
How to Play Yahtzee
Since many players can play the game, it is very popular in social circles as well among friends. It offers great fun and excitement during leisure hours and pleasure trips.
Playing Yahtzee
All players take turns one by one as they roll five dice. They pick and choose some dice to keep and some to reroll for creating combinations to score higher points.
Each player can roll dice three times in a single turn. While playing second and third turn, players can decide on rerolling only some dice as per yahtzee rules .
Player may not play for all three times if he wishes so. But the score card must be filled as zero if you have not played. If you have scored any points during any play, that score should be added to the scorecard.
The score card contains 13 boxes for 13 rounds. At the end of the game or end of the thirteenth round, all 13 boxes should be filled in by each player in his scorecard.
The final sum of scores filled in 13 boxes is the final points. The highest final points reveal the winner of the game.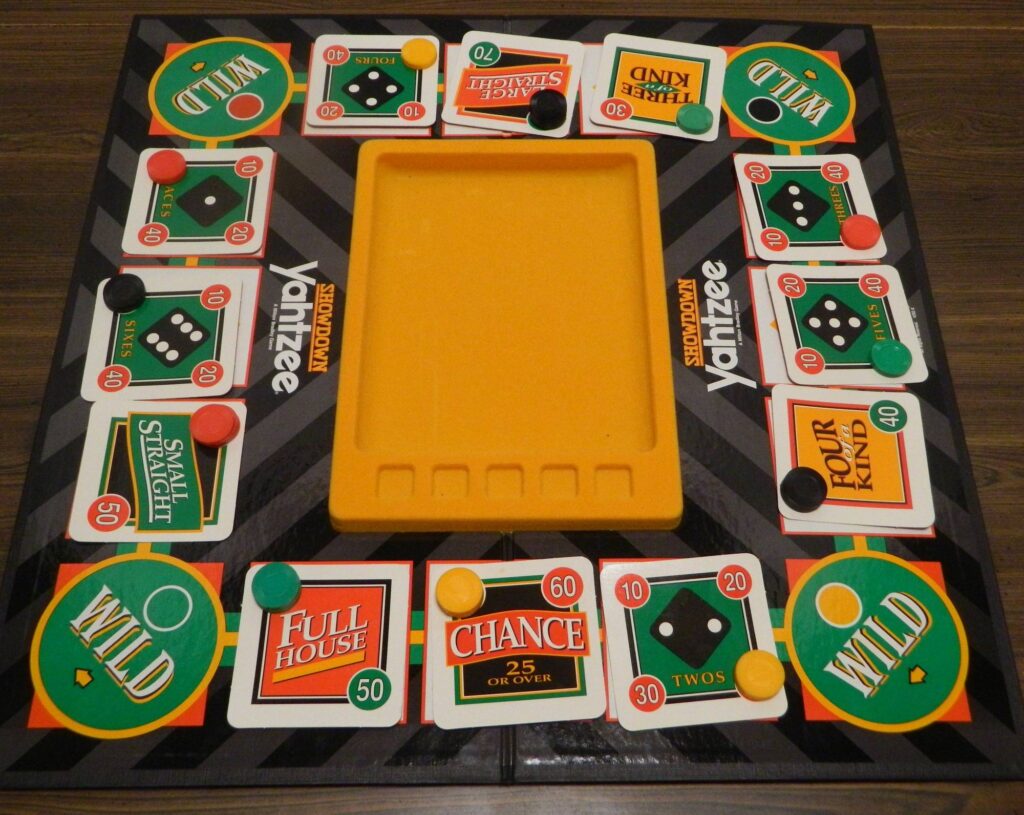 Rules of Yahtzee – Scoring & Points
Scores of Yahtzee are calculated as per the number shown on the dice as well according to some combinations or sequences. See below all the scoring Yahtzee rules.
Yahtzee Scorecard
Category
Points / Scores
Upper Section of Score Card
Aces / Ones
Sum Value of dice showing one
Twos
Sum Value of dice showing twos
Threes
Sum value of dice showing 3s
Fours
Sum of value of dice showing 4s
Fives
Sum of value of dice showing 5s
Sixes
Sum of value of dice showing 6s

Lower Section of Score Card
3 of a kind (at least three dice of similar number)
Sum of value of 3 of a kind + value of remaining dice numbers
4 of a kind (at least four dice of similar number)
Addition of value of 4 of a kind + value of the remaining dice numbers
Full house (a pair of similar number + 3 of a kind)
25
Small straight (four dice in sequence. For example 1-2-3-4 or 2-3-4-5)
30
Large straight (five dice in sequence. For example 1-2-3-4-5)
40
Yahtzee (all five dice of the same number)
50
Chance
Total of all five dice
Here are some more special scoring Yahtzee rules:
Bonus Points
35 bonus points can be earned by any player who reaches 63 points total through upper section categories.
Any player making a Yahtzee (all five dice of the same value) earns additional 100 points.
A player can score in any category only for once. Categories can be chosen by the player but not to be repeated.
Yahtzee Scores
If a player plays a Yahtzee but it is already used, special Yahtzee rules apply. If Yahtzee box is filled with 50 scores, the repeated yahzee will earn a bonus of extra 100 points.
If previously played yahtzee category is zeroed out and this category in score card mentions 0, player will not earn any yahtzee bonus for the second yahtzee as per yahtzee rules.
Joker Rules
However Joker Yahtzee rules apply for the Yahtzee that cannot score due to previous Yahtzee being zeroed out. If you have open space in the upper section of your score card, you must sum up the total of all the dice. If there is no space in the upper section, the lower section can be filled out in the category of 3 of a kind and a pair. Some players also consider yahtzee as a full house instead of applying special scores and special rules to it. Though Yahtzee Rules sometimes vary and are a bit difficult to follow, we are sure this information has made them easier to understand. If you love playing card games and board games with your friends and at gatherings, our site has a lot to offer. Check mancala rules, Cribbage rules and rules of bunco, chess, jenga and checkers too. We wish you all to enjoy playing games with our rules and instructions. Visit our site to know how to play the popular card games, dice games, tile games and board games.If you know any other special yahtzee rules, do share with us using the comment section.